Top 10 City Skyline Murals
Posted by Andrew Gerraty
01/07/2015
There's just something special about being in a city – wherever in the world you are.  The buzz, the excitement, the crazy chaos of it all…
Blurring perfectly with a sense of history, culture and all the amazing possibilities of the future. So it's no surprise that cities makes for some of the most inspiring images ever – read on to discover our favourite city wall mural picks to inspire your home, and whet your appetite for travel!
1.The city that never sleeps
New York isn't called "the city that never sleeps" without good reason.
This breath taking shot of the Manhattan city skyline captures all of that amazing night time energy perfectly. With the striking neon skyline reflecting over the water front, add a touch of that NYC energy to your home.
2.The city of light
Paris – aka "the city of light".  Does it really need any introduction?
The Eiffel Tower is probably one of the most well known images of this incredible city, and this inspiring wall mural looking up at the tower perfect sums up the spirit of romance, wonder and awe.
3. Welcome to fabulous Las Vegas!
The iconic sign greeting visitors to the one of the most incredible cities in the world is instantly recognisable – and sums up all of the buzz of Vegas in a single shot. With a sparkling hint of colour, this contemporary wall mural brings a bit of that Vegas magic right into your space.
4. The creative buzz
Cities are incredible place to discover new things, inspire yourself with heaps of creativity and soak up art and culture.
And if you're looking for a little artistic reminder to brighten up your day, this abstract skyline wallpaper will certainly meet the bill – with a rainbow burst of watercolour shades, reimagining the Chicago skyline.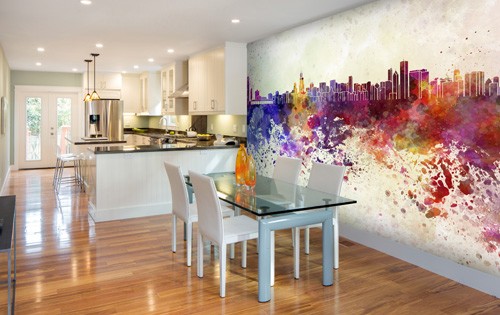 5. Rainbow city
In every city there's a secret spot – quiet and tucked away from the world. For a moment, time stands still, and you can really soak up all the atmosphere in the area.  Burano Island is Venice's secret hideaway – a little island lined with picture postcard-perfect multi-coloured houses, and vibrant blue-green lagoons. It's hard not to fall in love once you've seen that unique city skyline!
6. The city of the future?
This awe-inspiring city skyline might look like some futuristic fantasy, but in fact it's a shot of the incredible view over Singapore!
One of the most beautiful contemporary skylines, this shot perfect captures all of the city's greatest landmarks – as well as the dreamy hues of the gorgeous Singapore twilight sky.
7. An artistic treasure trove
Step away from big city skyscrapers and enjoy the beautiful canalside houses of Amsterdam.
These tall, slim and often very deep buildings with their gabled facades are reminisent of the city's 17th century golden age and provide a wonderful backdrop to the cities complex canal system. 
8. A glimpse of history
While most cities around the world are buzzing with neon at the speed of light, some places seem to transcend time entirely. And the historic city of Oxford does just that – this incredible skyline view captures a tiny glimpse of its inspiring history, as you look over the beautiful colleges stretching out along the horizon.
9. Under the Tuscan sun
There's something special about historic European cities. They manage to capture that perfectly languid spirit of relaxation and ease, while never missing a single beat.  The city of Florence really does have the best of everything – from stunning culture, high fashion, delicious food and captivating landscapes – and this amazing wall mural of the Tuscan sun overlooking the beloved city depicts it beautifully.
10. London dreams
No round up of the city's skyline would be complete without the greatest city of them all - London.
This twilight shot of St Paul's Cathedral just about sums about everything that makes it such a special city – history, modernity and the excitement of everything that's possible lingering in the air.  It's the perfect image to add some inspiration to your life.
More information!
Get more details on the process and pricing of murals with our online enquiry form or speak to one of our friendly team seven days a week on 01772 284110.
Leave a Reply