Looking for the perfect present for a football mad person? Fortunately, the internet is a wonderful place for inspiration. Choosing gifts isn't easy, and we've all been through the struggle of earmarking the right offering for a special occasion. Here we will take a look through five great options when buying for one of the millions worldwide with a love for the 'beautiful game'.
A Football Stadium Tour
If your friend or family member has a specific team then they would love to walk in the footsteps of their heroes. The best way to do that is through a stadium tour of the club which has a special place in their heart. For the smaller clubs, these are often arranged on request and customised, while the bigger names often have set tours constantly available to buy. Check out some of the football stadium tours available at Buyagift.
Football Wall Mural
If your chosen team is in another country and a stadium tour is out of the question, then bring the stadium to your home instead with this gift!
Feature walls are brilliant for adding a focal point to any space. Children will love a football one in their den, and they work great in a play or games room. At Wallsauce you can find an array of licensed photographs, or you can order your own, to get a made to measure image as a decoration for any wall in the home. Establish a theme and fill space with these attractive options. View our football wall murals here.
Subbuteo Salt & Pepper Grinders
Add a classic football touch to any kitchen and dining table with these retro shakers from Thatbto. Every fan recognises the iconic figures inspired by the game from the 60s. This makes it a wonderful collectors item as well as high quality items. Also ideal for any jokes about passing the salt, seasoning or improving your skills – sure that won't get old!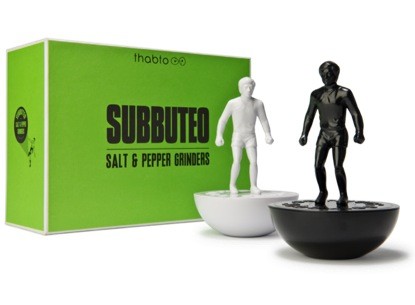 Football Posters
With some many incredible players having graced the pitch over the years, your football fan is bound to have a favourite. From Pele to Maradona to Raul to Van Persie to Gareth Bale, there are a plethora of iconic names from different countries and clubs. The Sucker for Soccer website from Serbian designer Zoran Lucic has an array of artistic designs that are good enough to grace any wall, and even match a wall mural.

Official Team Merchandise
Football has long been the most loved sport throughout the United Kingdom, and is followed by millions. The Premier League is the biggest competition in the world and all clubs have a huge variety of products in their club shop. From wallets to mouse mats to phone covers to replica shirts to training kits, there are so many options to spoil someone whatever the occasion.
There you have it, five gifts to inspire you when searching for the ultimate present for a football fanatic. If they have a favourite team then a stadium tour or merchandise will be well received, if they have a hero then the posters will take pride of place and a wall mural is a unique addition for anyone. Still, though, this is only the tip of the iceberg and options are endless. Let us know some of your ideas in the comments below!