The Man of Steel, known to some as Clark Kent and to others as Kal-el,  has been thrilling fans since 1938 and with a new film due out in May 2016, he shows no signs of relenting from his onslaught on criminality everywhere.
He has gained many followers over the decades which means that the choice of Superman merchandise is very wide indeed. Luckily for you, we've narrowed down 5 of our favourites in the following list of great gifts for Superman fans.
Superman gifts for a super-man
Superman S-logo rhodium cufflinks allow the wearer to remember that they must always be on the lookout for the wicked schemes of Lex Luther. Not to mention that the addition of a couple of Superman's famous symbols makes any shirt supercool, at least in the eyes of the wearer.
Superman movie anthology
A fan will always appreciate a collection of the films all together, which is why the Superman Motion Picture Anthology will always be received with smiles. It contains all the films from 1978-2006: 5 films filled with adventure, heroics and the dreaded kryptonite all updated into beautiful blu-ray quality. They come complete with special features and directors cuts which will have any fan glued to the screen for hours.
A Superman gift for the home
Another great gift is a wall mural. Wallsauce can provide you with unique and exquisite wall murals and wall decals that will bring the world of Superman to a lucky fan's home. Whether you are looking for Superman throwing a tank, fighting a villain or Clark Kent revealing that iconic S underneath his shirt you can find it, with a choice between the comic-book cartoon image or the movie scenes. They can be personalised to the exact specifications needed and will be delivered right to the fan's door.
Superman gifts for super pets
Cat and dog loving fans will be thrilled by a Superman themed collar which creates for them a Superpup or a Supercat sidekick. Coming in the form of a stylish blue bandana this treat is the perfect accessory for any pet that goes above and beyond the call of duty.
Build your own Metropolis with Superman LEGO
No superhero gift list would be complete without some LEGO. The Superman Metropolis Showdown LEGO set is the perfect gift for the younger Superman fan as they can recreate the epic battle between Superman and General Zod from the latest Man of Steel film. Only the fan can decide what happens when the megalomaniac meets our hero.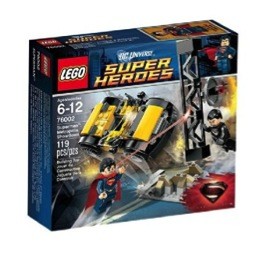 Those are 5 great gifts that are sure to put a smile on any fan's face. Cufflinks to accessorise their outfits, a film collection to blow their mind, a mural to make their wall epic, collars to make their pets super and a LEGO set sure to produce an exciting battle between good and evil. 
Update: Please note that our Superman murals are no longer available. Head to our fantasy and sci-fi mural collection for similar products.