If you love horses and or work in the equine industry, then a fabulous wallpaper mural is perfect for you.
Whatever your discipline, be it show jumping, dressage, eventing, hunting, showing, cross country and more, why not put your love of all things equestrian on to a superb made to measure wallpaper for use in your equestrian home or premises.
Photos of Your Horse
If you have your own horse, pony or simply love to ride, then why not create a mural using your own photo. For equestrian businesses, you can upload photos of your own product ranges or promotional imagery. If you require help, advice or graphic design support, just get in touch and we'll be delighted to help.
Horse Wall Murals at Home
When you're not down at the yard, why not have horses in your life at home, with a stunning mural of your own horse or pony or alternatively one of your favourite breed! For junior riders why not have the perfect bedroom wallpaper adorn your room! View our horse wall murals for great equestrian home ideas.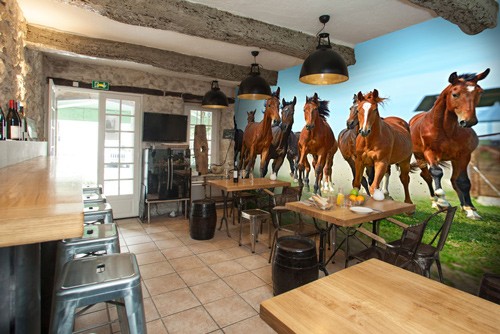 Equestrian Arenas
Perfect for larger venues or equestrian centre indoor arena, an inspiring wall mural could be a great addition to brighten up space.  Why not try a stunning shown jumping image, dressage image or photos from any other relevant discipline.
Horse Racing Wallpaper Murals
Whether you're a stud farm owner, operate a racing venue or are an avid horse racing fan, a stunning race horse wall mural could be perfect for your space. Our range include some generic colourful racing imagery or if you have your own, simply upload it to our website or enquire for more details.
Equestrian Stores
If you own an equestrian store, why not include some impressive wallpaper to brighten up your environment and inspire your customers. We can include brand logos into any of our own images or any imagery you supply. Our made to measure murals are very competitively priced and with self-adhesive wall murals available, you can re-design your retail environment as often as you like. 
For more details on our equestrian mural options, please check out some example horse wall murals.