Taking images to a scale beyond just a large print is something that wallsauce.com do every day, so when the chance arose to use the Bridgeman image archive to expand our range, the opportunity was too good to pass by.
There appears to a real appetite appetite for fine art in all its forms at a wallpaper scale and demand for works from the Bridgeman archive is growing. Examples of what customers can do with wallpaper created from some of the worlds greatest masterpieces show just how impressive and inspiring this décor can be.
So far, we have included around 2,500 of the Bridgeman's images in our Wallsauce website but have access to many thousands more from the full collection. If you can't find the one you want on wallsauce.com, then simply browse the Bridgeman collection and make a request. Once it's available, you can specify the size you want and place an order, with a choice of wallpaper mural materials available.  
Our customers really love the imagery and requests so far have been quite varied.  To date we've created bespoke wall murals using works from artists such as Gustav Klmit, Claude Monet, JMW Turner, Edgar Degas, Renoir, Rembrandt and Michelangelo amongst others".
Example wall murals include this stunning example of Buckfastleigh Abbey, Devon (circa 1826) by Turner, Joseph Mallord William amongst others. 
To search by artist on the website, click here.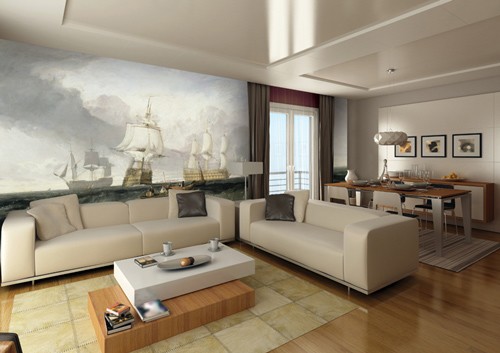 More information!
Get more details on the process and pricing of murals with our online enquiry form or speak to one of our friendly team seven days a week on 01772 284110.
To return to wallsauce.com homepage, click here