Do you find yourself constantly looking for home interior ideas? With us spending so much time at home lately, creating a space we love is something we all aspire to have. However, life can get in the way, so finding the time to start a big DIY project is something of a challenge!
Between family commitments, catching up with friends, work and home life, it can be hard to set aside time for those little home updates you've been dying to do!
That's where we come in. We have put together a list of small decorating updates that you can do this weekend! Easy and accessible to all, these décor ideas will give your home the quick makeover it needs! Sounds great right? Read on to get inspired…
Style up some shelves
Mural in picture: Black Ink Leaves 
Image source: howirent_
It's shelfie time! Yes, this word has been floating about for a while now, and it's easy to see why. Shelves are a timeless way to update your home décor, whilst being super practical as well! Not only do they jazz up your wall space, but they are perfect for anyone who loves a clutter-free home. Stylish shelves are all over social media right now, so hop on the trend and get decorating! Here's how:
Pick a cohesive colour scheme
Choose décor items that complement each other well in terms of colour. Additionally, spread the colour out. You want your shelves to look like a well thought out display, so avoid colour blocking.
Be selective with your display items
Pick out decor you love and opt to curate your accent pieces over time by collecting items slowly! Not only will you make more thoughtful purchases but you will have a story to tell about each item.
Have fun with wallpaper
Add a splash of colour to your shelfie by lining the back of your shelves with peel and stick wallpaper! Go bold with pattern and colour that complements the rest of your room.
Paint a faux headboard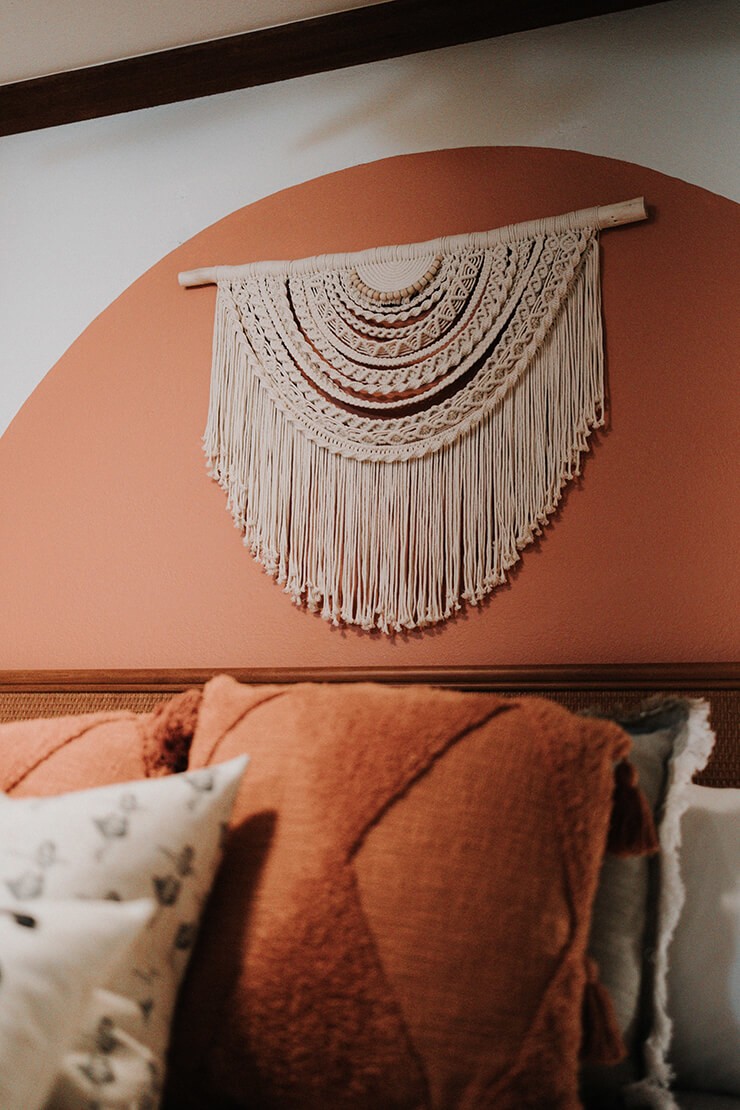 Headboards can add a pop of personality to any bedroom. They're a great way to add colour, texture and shape to your sleeping space, and changing it up is easier than you think! We've seen it all over Pinterest, but painted headboards are a huge trend this year and you can really make it your own. From semi-circles and scalloped edges to prints and colour blocking, get creative with the paintbrush this weekend and channel your inner artist!
Hang some wall art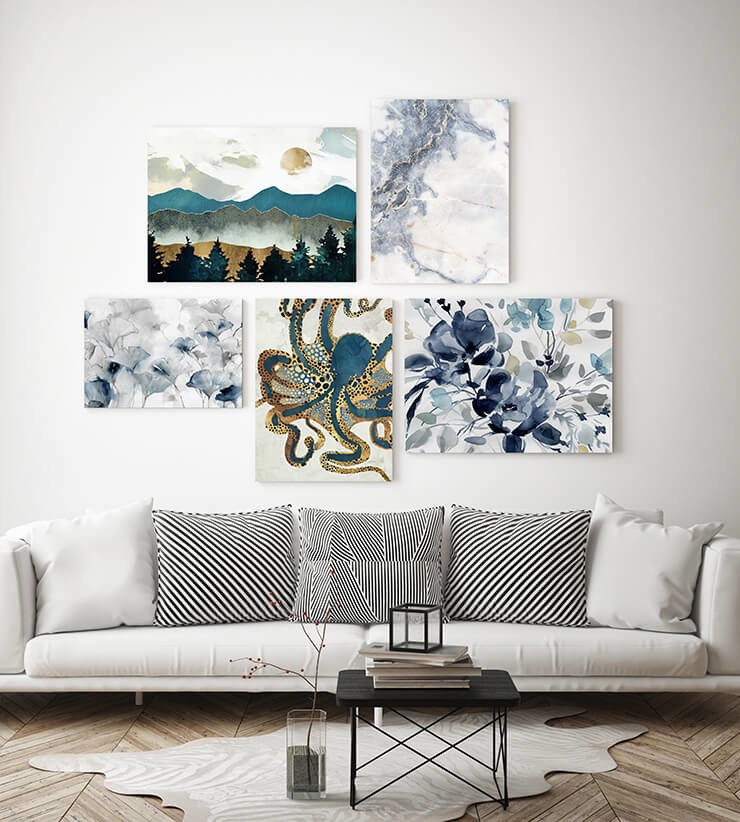 Remember those photos you never got round to hanging? Or that artwork your bought that's been collecting dust in the corner? Well now is the time to finally hang them on your wall! It's a quick and easy job that many of us put off, but it will really make a difference to your home décor. Wall art creates a personalised point of focus on any wall in any room. You're not limited in the ways you can display them either! Here are a few ideas:
Create a gallery wall
Mix and match artwork, prints and photographs. This will create an impressive gallery wall that's personal to your style!
Prop them up on a shelf
If you're not handy with the tools, add your pictures and prints to your shelf décor! This allows you to change them up easily without any pesky holes in the walls. This is also perfect for rented accommodation.
Upcycle a tired piece of furniture
Do you have an old piece of furniture that's in need of some TLC? Well now's the perfect time to get creative and upcycle it into something that you love! From a simple coat of paint to getting crafty with vinyl, upcycling is taking the design world by storm! Here are some ideas:
Go bright with colourful paint
If you have an old wooden wardrobe, chest of drawers or table that has seen better days, sand it down and get painting! This is a super quick and easy way to update your furniture in a matter of hours!
Cover with vinyl
Go maximalist and cover the surfaces of your furniture with printed vinyl! This is a trendy way to update any furniture in a quick and cost-effective way.
Change cabinet handles and legs
It's as simple as that! Changing up the handles or legs on your doors, kitchen cabinets or drawers is an easy way to modernize your home in an instant. Leather or iron handles are a trending choice right now, together with hairpin legs!
Create a wallpaper feature wall
Mural in picture: Underwater Dream
Image source: Lizzie on Facebook
Wallpapering completed in one day did you say? Yep! It can be done and it's easier than you think! In fact, less than one day's work is all you need to create a stand out feature wall in your home with a Wallsauce.com mural.
Feature walls are all the rage, especially with maximalist design being a top trend right now. A wallpaper mural is a foolproof way of bringing some personality and pizzazz to any room in your home! How about a modern bathroom wallpaper in our premium paste the wall material? Or perhaps a beautiful floral statement in your trendy living room?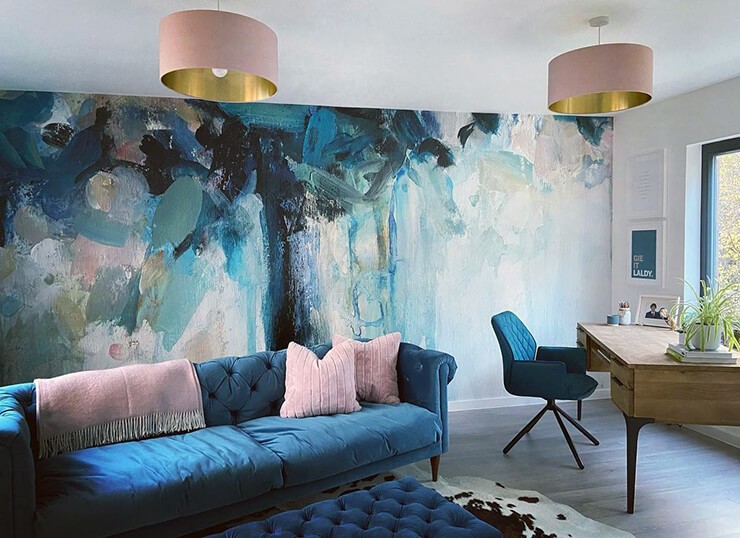 Mural in picture: Midnight Splash
Image source: Grey Clover Interiors
Take a look around your home and pick out a blank wall that needs reviving. Perhaps the wall behind your bed, or maybe your dining room needs an update? Then pick out a mural that you love and get decorating this weekend. P.S. You don't need a professional decorator either. Grab a pal and get to work!
Paint the ceiling
Image Source: Apartment Therapy Via Pinterest
Perhaps one of the biggest and most transformative trends this year, painting your ceiling is a dramatic way to update any room in your home. This bold change will not only make your room feel 10X cosier, but also that little bit more designer.
This is an especially great design choice if you are relying on white walls. Experimenting with the 'fifth wall' will instantly take things up a notch in a unique and exciting way! Not only that, but it's a great project to get started on this weekend for a quick and easy update!
Are you ready to get your DIY hat on this weekend? Which project do you fancy taking on to give your home an update? Let us know in the comments!